Our Story
Youth Development
We are aimed at teaching our youth, and wish to do this with parent involvement.

Our focus is on performances that will appeal to the general public: from children to adults. To do this our performances are aimed at playing to a high standard varied musical sets, stick tricks, and movement from drill to almost dancing.

It's a bit like rubbing one's belly while patting your head with the other hand: we ask the players to do a lot more than just play drums!

After our first 12 months of formation the Drumline will be available to play at various public functions. A donation is normally expected for such playouts since this is our main source of revenue.

In the week to week practices the Drumline is co-ordinated by Don Want. Whilst being the main instructor, Don delegates to his senior drummers to assist him in teaching sub-groups within the Drumline.

Being a non-profit organisation, the Drumline has a normal committee structure present. There is always an active need for more parents to take part in such committees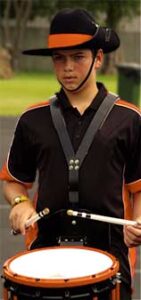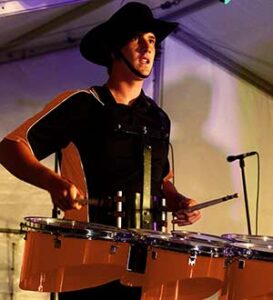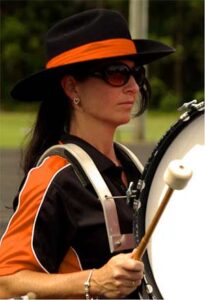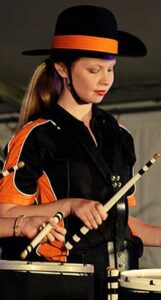 Don started learning drumming at 9 years of age in pipe bands. Most of his life he has played in competition-orientated pipe bands both in Australia and overseas. He has been in bands which won various national and international titles. In his younger years he also competed in Solo Competitions. He has been an inter-state Drumming Judge for about 37 years.

In the last 30-odd years Don has been teaching and leading various drum corps. One of his ventures was to start voluntary teaching in schools for which he had a number of school drumlines. He also formed the Coffs Drumline, which flourished for about 4 years until he left the Coffs area for the Gold Coast, to be with his children who had mostly moved there.

Don presently has a number of drumlines in some local schools such as the Coomera Anglican College, Highland Reserve State School and the Assisi Catholic College.

Don has a passion for good band presentation and audience enjoyment. His mix of militaristic drill and discipline, demand for precision drumming and stick dynamics with variation and movement is aimed at an audience of all ages. He gets a kick out of a crowd of all ages gathering around his drumline while they are just practicing (not in an official performance) and through this and other indicators, believes he's on the right path.